It happens to every long-term traveler eventually: you will be robbed, burglarized, or otherwise inconvenienced.
For us, it happened in Canada. Edwin and I had parked the car in a pay-by-the-hour parking lot while we got some work done at a nearby coffee shop. When we returned that evening, I noticed bags next to the vehicle.
It took a few seconds to realize they were our bags.
A thief had broken out the side window and opened the door, making off with both sleeping bags, a heavy jacket, a DSLR camera, our water supply, an ukulele, and a few other items. Here's how you handle that.
Step 1: Call the police and file a report.
Step 2: Reorganize your possessions the thieves had considerately stacked outside the vehicle.
Step 3: Let it go.
The chances of actually having an item returned are slim to none. At the time of the burglary, we were in Vancouver, British Columbia, in a vehicle with New York state plates. Not only were we clearly not locals, but we didn't even intend to stay the night.
It was also apparent that this was an attempt to survive. The temperature had already begun to plummet in Vancouver; the sleeping bags were notably warm, the water supply was clean, and the camera, while the biggest loss, would net enough from a pawn shop to pay for a few meals.
The thieves didn't even take the change in the center console, or our passports. The situation could have been much worse. In a way, their breaking of the smallest window in the vehicle was almost courteous in nature. It could have been a much larger window.
Dealing with theft is a headache and a hassle, but none of the items held sentimental value or were of such value that they can't be easily replaced if necessary. When you I think about how much more fortunate I am than someone stealing a jacket and sleeping bags to survive, it's hard to be too angry.
After Vancouver, we spent two days in Everett, WA while the window was repaired. The best part of the experience is that the repair tech looked exactly look Wolverine.
After we left the shop, Edwin said, "At least Wolverine is repairing our car."
I started laughing. "I had the same same thought," I told him.
The guy's haircut and facial hair was spot-on for Hugh Jackman. I kept waiting for him to say 'bub.'
Since then? We've traveled through areas too beautiful to describe in words. The border between Washington and Oregon is marked by towering mountains, heavy fogs, and countless waterfalls. Beyond that lies a sparse area with tough shrubbery and sun-bleached grass.
The continental divide in Montana is just as breathtaking as its southern cousin, except that it's covered in snow.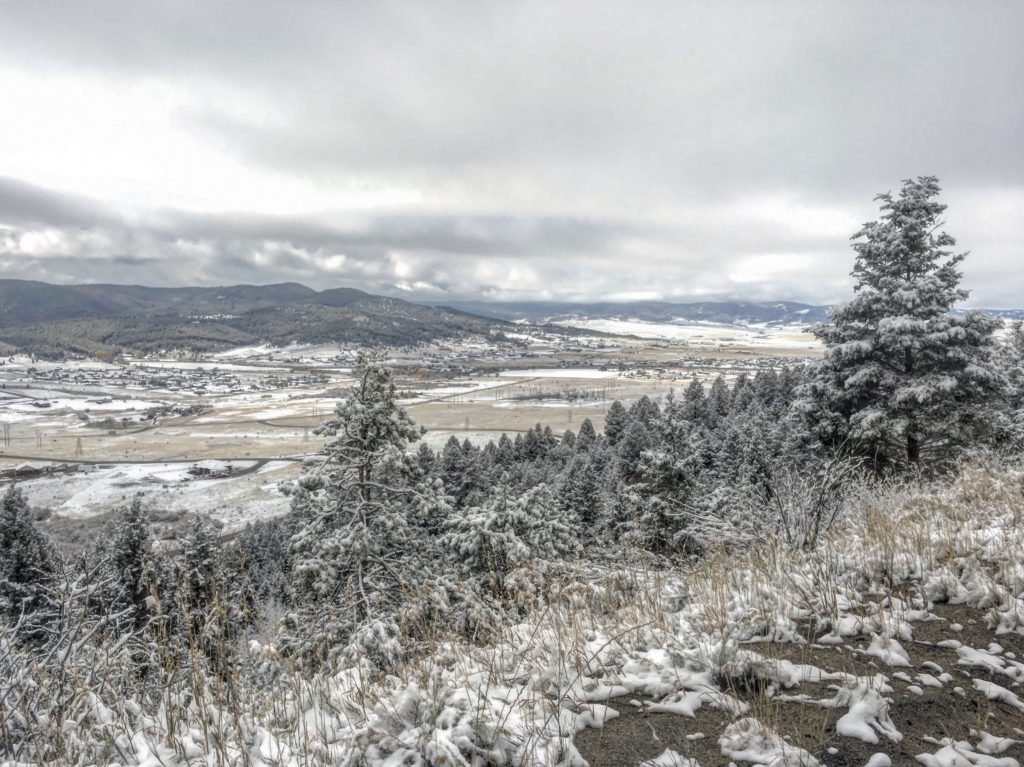 As soon as you've reached the peak of the divide, the road begins to slope down once more. The elevation drops quickly until the snow gives way to green fields and warmth before climbing once more into colder regions.
I'm writing this post from inside a Starbucks. I took the seat closest to the fireplace, relishing the warmth; my southern blood isn't used to weather quite this chilly, especially this early in the year.
Plus, I just really like fireplaces. What writer doesn't?